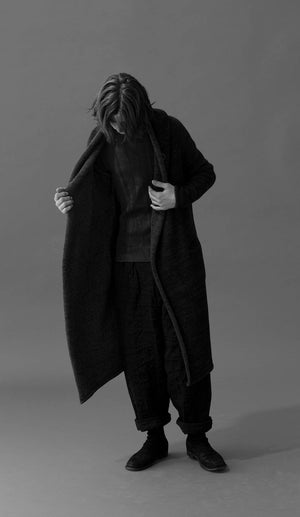 Not many have managed to showcase such a close relationship between a garment and its possessor like Koeun Park – a Seoul-born designer and her exquisite label Forme 3'3204322896, pronounced Forme d'Expression. Naming her company Factory of Faith one can already assume how personal and spiritual her creative process is. She believes in catering to each and every one of her clients by exposing freedom and individuality.
Trained in haute couture and mastered her craft in Umbria region of Italy, Park acquired exceptional design skills, which translate so clearly across both women and menswear. These organic forms are elegant in their modesty but somewhat dramatic in their execution. The quality of the fabrics and meticulous structure of silhouettes reveal a synchrony and almost geometrical approach to fashion. With that said, the women's line appears more emotional and less calculated by emphasising layers, volumes and bold textures, which makes the pieces very romantic.
The designs are born through an experimental process and a very conceptual approach to understanding the role of a garment. Forme d'Expression explores how the cloth evolves with its owner, the injection of his personality into the fabric, as well as the adaptability to one's already existing wardrobe.
Koeun Park offers an effortless solution for those unimpressed by fast fashion and blind obsession with trends. The clothes are an escape, a silent scream of nonconformity, realness and simplicity. When you create pieces that are refreshingly honest, easy to wear, and aesthetically pleasing in their minimal presentation they become timeless. And Park achieves just that: a friendly clash of universal cuts and extraordinary form of expression.
Discover Forme d'Expression latest collection for men and for women on UJNG.