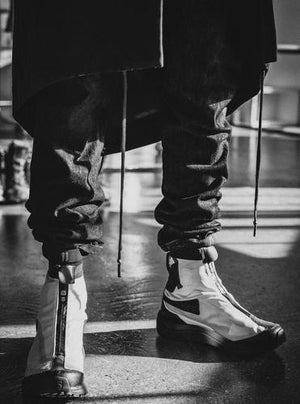 Technical footwear and tech wear have garnered a large cult following in the past few years. Climates and weather patterns changing and being faced with a global pandemic, the requirement for practical footwear and clothing was a logical choice, with pieces that can protect us from the elements without inhibiting our movements and day to day lifestyles. Materials and details such as Gore-Tex, thermo taping and sealed zippers, which are more commonly used in products for outdoor pursuits, have made their way into the everyday wardrobe. Normally coming in a monochromatic colour palette, the aesthetic is futuristic utilitarianism with militaristic details and minimalist leanings.
These common interpretations of the aesthetic are flipped on their Gore-Tex covered feet when it comes to the Salomon Lab x 11 by Boris Bidjan Saberi collections. The French ski brand and the Barcelona based 11 by BBS (the 11 line is independent of the mainline whilst maintaining its DNA) launched their first collaborative efforts as part of the SS17 collection. The 8th collection (8 a very important number in numerology, of which Boris is a huge believer of and hence why the label is called 11) titled DISRUPTIVE DISCIPLES introduced the first shoe in the ongoing collaboration. The BAMBA 1 Speed Cross, in cold dyed tones of military green, sand and of course monochromatic options in optic white and a stealth black, instantly resonated with the Techwear, Streetwear and Avant Garde enthusiasts alike.
Cold dye and object dying techniques are key elements of the 11 by BBS collections which have been inherited through its DNA. These techniques have most commonly been used by artisanal brands but also by tech wear innovators such as Stone Island. These dying techniques and the hand touch is what differentiates this type of technical shoe from others; merging artisanal and technical elements, creating both a visually captivating and functional piece which looks alive and has lived, rather than the clinical look of technical footwear. The following AW17 season the BAMBA series, taking its name from the signature sneaker of the Boris Bidjan Saberi line was introduced; in particular the model which would become the collaborations most successful and a staple within the collections, The BAMBA 2 High. With its sleek upper crafted from a mix of technical materials, central waterproof zip revealing a branded tongue sat upon an EVA moulded sole and reflective branded detailing became an instant classic, merging technical construction with a hint of Streetwear sensibilities and an artisanal touch.
The BAMBA 2 and the series as a whole has expanded and continues its experimentation in dyeing techniques. The series is now comprised of the BAMBA 1X, BAMBA 2 Low, Mid, High, BAMBA 3,4,5 and 6. The BAMBA 2 high reigns supreme, with iterations that have been dip dyed and the introduction of vibrant colours such as pink and yellow, adding to the palette of dirty neutral tones, deep blood reds and icy and ink blues. Object dyed with results often looking haphazard and not uniform add character and a story. Creating a kaleidoscope of cold dye technicolour that melds seamlessly with so many different styles and aesthetics. With the introduction of new color ways, expanding the collaborative universe, it is still the monochromatic BAMBA 2 High variations that continue to be the most sought after and versatile options. Wether in Gore Tex or Technical Mesh and suede trim, the stealth black or monochromatic black and white option are a must for any discerning tech wear, footwear and fashion enthusiast.   
Already considered a design classic, discover the 11 by Boris Bidjan Saberi x Salomon latest collection on UJNG. 
MT