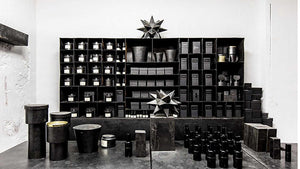 Scent, one of our most primal and important of the 5 senses, some may say they have more. It has the power to activate the olfactory memory, the part of the brain that remembers smells and associates them to memories. Thrusting you back to a place or time, reigniting the feeling and raw emotion of those moments. Scents, like memories are very personal, and different scents mean different things to different people. Taking all into account, we shall guide you to answering the question, "Which Mad Et Len scent is for me?"
Birthed in 2007 from the minds and noses of Sandra Fuzier and Alexandre Piffaut. Mad et Len, which takes its name from the Marcel Proust's poem "Remembrance of Things Past". In which the smell or the smallest crumb of the Madeleine cake would carry him back to his childhood, of making the cakes with his mother. Fuzier and Piffaut's love of nature and its raw, natural power, energy and of course, scent is evident in the product they create. Each of their home wares and capsules contains the scents, are meticulously hand crafted and evoke an esoteric, raw aesthetic which is evident from the packaging and the final product itself.
The scents are offered in 3 different vessels: Eau de Parfum vaporiser, for your person, Natural wax candles and the Mad Et Len interpretation of Pot Pourri, for the home. All the various fragrances have pure and earthy notes to them, due to the mixture of natural and organic ingredients used for their creation. Leather, petrified pine, amber, ink, and crisp mineral are all notes that will encapsulate your living space. Transporting you to a moment in time, of which the memory is reignited every time you smell the scent. Why not match your personal fragrance with that of your homes, for full olfactive synergy.
"... the smell and taste of things remain poised a long time, like souls ready to remind us, waiting and hoping for their moment, amid the ruins of all the rest; and bear unfaltering, In the tiny and almost impalpable drop of their essence, the vast structure or recollection" Remembrance of Things Past - Marcel Proust
Pot Pourri which traditionally consists of perfumed dried flowers, is reimagined. The dried flowers are now natural minerals from the earth such as, amber, tourmaline, amethyst, rose quartz and volcanic lava. Encased in the handmade vessels ready for the scented oil of choice to be poured over them. A personal favorite is the Graphite, a sharp, crisp and dry fragrance. Permeating the environment with a pure and clean scent, reminiscent of a the first snowfall on a winters morning. What about being transported to the hot and Smokey hash dens of Afghanistan and North Africa, or to moments when you had a cheeky toke with friends (Yes I'm talking you) with the Black Afghan scent. Smokey, woody with hints of amber, you can rest assured there will be no hot rock burns!
Speaking of hot rocks, Mad Et Len had also collaborated with artisanal maestro, Boris Bidjan Saberi to create a bespoke scent inspired by his leather workshop and tannery, with the scent adequately named TANN. Available in a Lava Stone pot pourri jar or in candle form. The scent evokes a rich and warm bouquet, with smatterings of smoke, horse leather and other natural tannins. For those truly in touch with Gaia and who's sense exceed the 5 most mere mortals have, then Terre Noire is the scent for you. With notes of bark, soil and petrified pine as well as rare aged Oakwood. Immerse yourself into a world where nature ruled, a time before the industrial revolution changed this world forever. A walk through a dense woodland, just after rainfall, with a smell of campfire in the distance.
Not only are the scents olfactive wonders, but the packaging itself is a piece of artisanal workmanship. Pieces which act as object d'art as well as functional homewares. That would sit just as effortlessly next to a Viv Lee vessel or an Ann Demeulemeester x Serax dinner set. After a year of lockdowns, we truly understand the need for parts of the home to be a sanctuary and an escape. With the Mad Et Len, you are never far from taking a trip to a different place and time. No need to self-isolate either.
Discover the Mad et Len universe here at UJNG.
MT