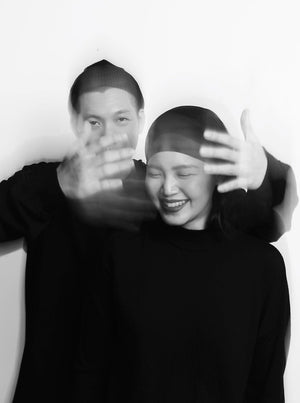 Since its inception in 2012 Joe Chia has developed a body of work, which is available in over 20 countries and 50 stores globally. No mean feat for a small independent brand.
From humble beginnings in Malaysia to showing in Milan and Paris. We shall delve into the past chapters of Joe Chia, and what to expect in the next chapter of the brand.
Amongst the humidity and hustle and bustle of KL (Kuala Lumpur, the Malaysian capital), overlooked by the steel and glass Petronas Twin Towers is where the first Joe Chia Studio and chapters began. It is here where those first chapters would be dreamt, created and crafted.
It is in this city where it's mix of cultures from Chinese, Indian and European remnants would subconsciously inspire Joe Chia. The creative director and designer of the eponymous label also operates the brand alongside his business partner and as of 2018, his life partner Melissa Deng. Joe designed and created both their wedding outfits, and of course he wore his signature hat.
The pair met during the development of Chapter 02 in 2012, where Melissa came on board as the business director. Taking responsibility of operations side of the business whilst Joe handles the creative, they say they operate like "left and right brain. One can't function without the other".
Similarities could be cast on other fashion power couples like Rick Owens and Michele Lamy or Rei Kawakubo and Adrian Joffe. The latter is one of the 3 designers that Joe looks up to, the others being Yohji Yamamoto and Jun Takahashi of Undercover. You can see these small nuances of admiration in his work and the design ethos of the Avant Garde, that they all encompass, in their own individual way. From the fluid tailored silhouettes of Yohji and Comme and the punk and sub other sub cultural undertones of Takahashi's Undercover. With this vision, after showing some collections at Malaysia Fashion Week, it was time for them to expand the brands reach. With guidance from another Malay designer, Khoon Hooi, in 2014 Joe and Melissa showed Chapter 05 at the WHITE trade show in Milan. Here they gained their first 8 international stockist, broadening the reach and visibility of the label.
"We call our collections chapters rather than season. Chapters are easier to attach and recollect memories of that time too. We can remember specific moments that occurred within each chapter. It tells our story of our growth and development. Not just as the brand Joe Chia, but also as the person and the people behind the brand".
Since chapter 05 the stockist list and fan base for Joe Chia pieces has grown exponentially. With collaborations with Reebok on their Insta Pump Fury, tech company ASUS on their Zen Book and G Shock. Joe Chia has resonated with many different markets. It's easy to see why. His aesthetic is that of all the influences from the multicultural and multi religious country of his birth. Taking elements of all these influences, traditional and work wear items and urban sensibilities. Crafting them with precision from beautiful cloth and constructing them with purpose. His fluid boxy silhouette and monochromatic colour palette creates a timeless wardrobe. With each chapter seamlessly leading into the next.
For Chapter 17 (SS21) titled 'Klonopin', the brand takes a moment to look back on its previous chapters. Developed during the global pandemic, being offered time to be introspective (like many of us during that period) the team decided they would recreate some pieces from the past, refining them and reimagining them in lighter fabrications and tones. Which correlated with the feeling of coming out of a dark heavy period, into one of lightness and light. In this collection we see he introduction of more earthy and neutral tones such as olive and taupe. Layering of semi translucent fabrics into loose relaxed silhouettes. Exuding the feeling of freedom, with no restraints and the natural world, which in these moments of chaos had time to heal. The collection feels calm and clear. Intertwines with Joe Chia's concept of sustainability and zero waste.
Which isn't just associated with fabrics and production, but also zero waste of ideas, hence the revisiting of past chapters. Like his heroes, who recreate and develop their timeless pieces, creating their own story with a continuous connecting thread.
Chapter 17 feels familiar but also very new. A culmination of what has come before and what to expect in the future. Here is to the next 10 cha-terms, as I feel the story is only just beginning.
Discover the latest Joe Chia collection on UJNG.
MT aka Otto