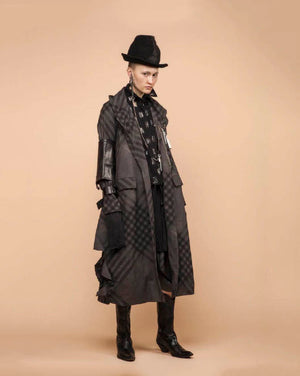 The Italian sculptress and performer of body art, Barbara Bologna is an artist like no other. Her first clothing and accessories line was brought to life in the year 2000 and called AREA di Barbara Bologna. She doesn't like calling herself a fashion designer as it diminishes the nature of a creative process, which in her case is a mystical journey of extreme emotions encapsulated, yet free flowing through her soul.
AREA is a space where art, fashion, music and theatre live in a perfect symbiosis. The creations exceed any simplistic attempt of defining a garment; they are like images capturing the mere moment. As an independent artist, Barbara conceives ideas from outside any boundaries and restraints that fashion industry often comes with, and as she explained in one of her interviews, these concepts are born in the back of her eyes.
Barbara Bologna cherishes personal artistic freedom and her fashion universe is formed exclusively from those, who share the same creative mindset and feelings. Through an extensive research and rigorous attention to detail, the artist and her team of Italian artisans offer collections of high quality fabrics and innovative visions. In a very extraordinary way she manages to marry commercial aspects of the pieces with artistic and conceptual nature of each garment. Often trapped in the middle of her opposite natures, Bologna achieves balance between life and death, vulgarity and decency, grotesque and familiarity, all through her very original designs. Barbara is a progressive artist who commits to changing each collection to be more contemporary and unique than the previous one. With every line she embarks on a journey of self-discovery and growth. It comes from and speaks the language of her soul, as she finds soul to be the only thing that is real.
Through her creations Bologna wants to preserve the inner child, residing in every one of us, hoping to achieve a positive reaction from the wearer. This beautifully odd artist challenges status quo of 'avant-garde' fashion finding it limiting and therefore always looking into the outer reality.
Discover our selection of independent designers