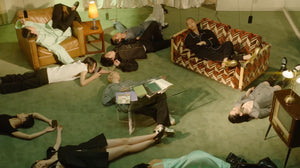 Bringing luxury and street wear together, the Korean label WE11DONE is the coolest new fashion brand.
Founded by Dami Kwon and Jessica Jung, two successful fashion entrepreneurs and designers, WE11DONE clothing is a combination of casual tailoring, oversized street wear silhouettes and refined detailing. Instantly recognise as a force to reckon with by worldwide buyers, the Korean label has taken over the world since their first collection in AW19.
Worn by celebrities like Justin Bieber, Kylie Jenner, Yang Mi and K-pop Superstar G-Dragon (who happens to be Dami Kwon's brother) the brand's fan base goes from K-pop fans to fashionistas around the world.
WE11DONE products?
Collections are part tailoring, part streetwear, but don't get it twisted, all of it is luxurious. The quality of any product with the brand's label is outstanding. From the pattern cutting to the choice of fabric and the branding, all of it is premium.
Since their early days they have set the bar high,
classic WE11DONE blazers
have embossed logo at the back and padded shoulders to create a modern retro look; while their iconic
WE11DONE bear embroidery
and serigraphy are as thick as they are refined.
The casual side of the collection as numerous cross overs between men's and women's wear allowing a good half of the collection to be worn by both gender.
It merges interesting fabric technologies (heat reactive, reflexive, glow in the dark etc) with slick and trendy prints, a must in any wardrobe.
In short, WE11DONE has the secret recipe for success.
Next season?
Founder Jessica Jung has mentioned the importance for WE11DONE to adapt their SS21 collection to the current pandemic times in an interview for Vogue:
"The collection is a little more delicate this season. We wanted to focus on crafting silhouettes and cuts that one would wear while travelling. There is the idea of 'imaginary travel,' or travelling within the mind while we're all stuck in [one] place."
This season, WE11DONE offers a selection of casual tailoring resembling pyjamas, bringing the smart lounge wear back in trend. Also featured, the most wanted and already iconic vegan leather loafers sandals to complement Pearl-accessorised looks. Nostalgic and breathy the collection takes you for an imaginary ride.
WE11DONE for men
has a wide selection of oversized casual tailoring complemented with silky shirts and printed teeshirt to create early 2000's modern chic silhouettes.
WE11DONE for women
shows Korean street style meeting evening wear. Feminine, deconstructed and comfortable, looks are powerful yet easy to wear. It matches the contemporary retro style of the menswear.
TM