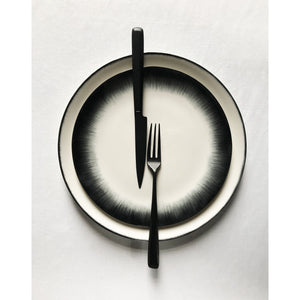 Shortly after graduating at the Royal Academy of Fine Arts of Antwerp in 1981, Ann released her own clothing line with husband Patrick Robyn, 'Ann Demeulemeester' in 1985. Part of the 'Antwerp Six' a group of designers who all graduated from the same class and taking over the world with a new, avant-garde style focused on material and intricate tailoring. Ann shined through her approach working with blacks, greys, whites and reds. It is only in 1996 that she debuted her menswear line. The brand rose to the top of the industry and stayed there since then, every season showing mind blowing silhouettes and striking looks.
After nearly 30 years at the head of her fashion house, Ann decided to change her horizons and leave the company in 2013. But not in vain, the designer wanted to keep creating, through a different medium: porcelain. She started up a porcelain atelier with her husband to create a new concept: Ann Demeulemeester Tableware. 
Ann Demeulemeester Serax:
Ann Demeulemeester latest project is called 'Dé', a collection of hand painted tableware using the Chiaroscuro techniques, a treatment of light and shades in drawing and painting to create unique hand painted porcelain plates.
The collection features bold brush painting aesthetics combined with very fine porcelain work, creating pieces of art to eat on.
True to her taste and branding she works around light and shadows and sticks with black and red colours palettes. After years of research and hard work, Ann came to Serax, a Belgian homeware company, with her concepts and samples.
Founded in 1987, Serax stands for innovative and affordable design and has quickly became an established household name. Together Serax Design and Ann Demeulemeester Tableware provide a 100% Belgian concept.
It was a challenge to put together: "It was the most complicated collection we have ever produced," said CEO of Serax, Axel Van den Bossche.
The edges of Ann Demeulemeester plates are hand brushed, each stroke intensifying to the layering of paint around the porcelain. The thickness and length of the paint strokes varies, creating different intensities throughout the collection. The glazed porcelain is also branded  with printed underside logos.
Expresso cups, tea cups, saucers, small, medium and large plates are available, allowing you to mix and match different styles, colours and types of 'dégradés', depending on the dish or the occasion. Each items comes in a set of 2, with it's own secured branded packaging. 
You can find the full selection of Ann Demeulemeester homeware in our Lifestlyle category on UJNG.
TM