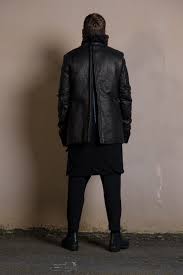 From the brands inception, almost 20 years ago, Masahiko Maruyama has made it his goal to create a product of high quality and functionality with a minimalist aesthetic
The Selection for AW16 continues in this vein. A texture rich and sumptuously soft deer leather, has been used to craft a minimal, deer leather jacket. Clean lines and angled seams with slit pockets are keeping true to the minimalist aesthetic. The piece can be worn fully zipped to create a funnel neck or worn slightly open to create a large angled collar.
As with most of the outer wear this season, details are in the back. A zip travels all the way up the centre back, creating an interesting visual effect allowing the wearer to make the piece more breathable. Functionality is key.
A long, double breasted, high neck coat is crafted from thick and heavy wool. With similar style lines to the deer leather Jacket.  The piece is fastened with oversized snap buttons and worn as a high neck coat, protecting you from the elements.  A large inverted seam runs from the top of the back collar, right down the centre back to the vent, creating a ridge back effect. Raw edge finishing, rib knit cuffs and an A line silhouette take this piece from traditional to modern minimalism.
Masahiko san's take on the classic Bomber Jacket is closer fitting to the body, changing the usual puffy/rounded silhouette, creating a sleek line. Slit pockets are built into the angled seams travelling up the torso. Thick ribbed wool is used for the collar, waist and cuffs which feature thumb holes, so they can double as gloves. Once again, functionality first.
The classic single breasted blazer is made from a soft mohair. With most of his pieces, nothing is classic per se. The cut is nipped in at the waist and the large inverted seam down the centre back makes another appearance. The piece is fastened by his signature, oxidised metal clips, which elevate the piece outside the realm of classic menswear.
The mohair tailored trousers, with cropped in length and a dropped crotch alter the classic silhouette.  Slit pockets along the side seams and to back pockets created along the seam lines of the yoke, continue the minimalist point of view. The angled fly is detailed with four of the signature metal clasps.
A staple in any wardrobe, the long sleeved t-shirt.  Made from a cotton and wool blend, and double layered for extra comfort and warmth.  Once more the key details are in the back. The back panel is slightly more elongated than the front, creating a tail effect. The centre back features printed text, explaining the brand name.
Nude, an artistic impression, in the minimalist form.
Explore our blog to discover the best fashion designers