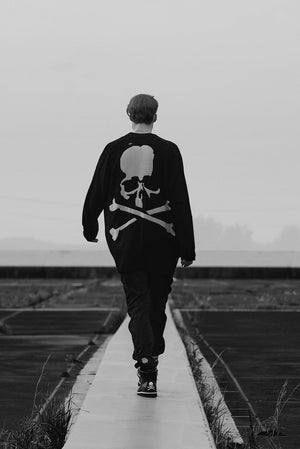 'Prologue Volume I' is Mastermind's first full collection since being retired by founder Masaaki Homma in 2011. Mastermind will launch Mastermind Japan and Mastermind World consecutively, 'Japan' catering to the domestic market and 'World' as an international label.
Original launched in 1997, Mastermind was conceived by founder Masaaki Homma wanting his own label starting with the letter 'm' like his name. The famous skull and bones motif was not added until 2000, Masaaki Homma has said that he hand-drew over 1,000 version before settling on the one that defines the label today.
International success soon followed in 2001, Mastermind brought an element of luxury to 'streetwear' with high end fabrics unseen in the market. The risk of bringing luxury street wear to an international market paid off, once buyers so the undeniable quality of the products stores rushed to stock Mastermind.
Over the next 10 years Mastermind became notorious as the ultimate luxury streetwear brand with limited items becoming collectors' items for its followers. On its 15th anniversary in 2011 Masaaki Homma took the decision to retire the label, the next step was to have Mastermind as only a collaborating in project. The years that followed saw collaborations with the likes of Neighborhood, Adidas, BAPE and Anti Social Club.
To celebrate its 20th anniversary Mastermind has now launched a global label 'Mastermind World'. "The 20th anniversary for Mastermind means turning over a new leaf, so I decided to create Mastermind World. The first collection will be launched at the end of August all over the world" – Masaaki Homma.
Discover Mastermind World latest collection at UJNG