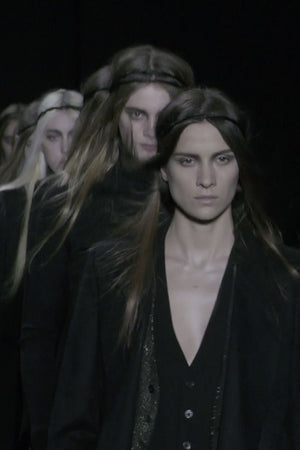 Ann Demeulemeester established her name as a designer after graduating from Royal Academy of Fine Arts in the 80s. That's when she became a part of Antwerp Six, a group of fresh young talents known for their innovative and forward thinking approach to fashion.
She launched her first menswear collection in 1996, which gained instant recognition thanks to her unusual avant-garde designs.
Often called a deconstructionist, Ann has created her signature style by juxtaposing different fabrics on elongated silhouettes, playing with textures and shapes.
Echoing influences of Japanese culture, punk and Gothic style, as well as female music icons like Janis Joplin and Patty Smith, her pieces marry both timelessness and innovation.
After Ann's departure from the label in 2013, Sebastien Meunier took over an uneasy task of carrying on her artistic vision.
Demeulemeester creates for those who like wearing clothes with attitude and pay close attention to detail as opposed to focusing on decorative aspects of a garment.
Her collections for both men and women evoke nonchalance, moodiness and poetic nostalgia bringing together what often seems like a contradictory mixture: subtly draped silks with edgy cuts of leather or sticking to dark monochromatic palette with occasional splash of colour.
Wearing her designs is effortless and fun. It's like trying on your dad's blazer and pairing it with your mother's blouse – oversized, slouchy and extended look for romantic souls who like diving into the melancholia of childhood dreams.
Discover the best of Demeulemeester fashion label for men and women