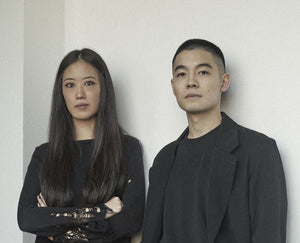 We talk to Melvin Tanaya and Lyna Ty from song for the mute about their inception, collection and what's next.
What was the biggest influence on you to become a designer?
It simply started as a hobby, a side project that we could really call our own.
---
SFTM can be considered to have quite a deep meaning to it, for you who are the mute and what is your song for them through your design?
We see Song for the Mute as a communication channel of our inspiration and ideas. In life, we often face unfair expectations or do things just because we are expected to – and we know we're not the only ones out there that is experiencing this. We simply want to tell our story in the hope that it will inspire others.
---
Is that 'song' constantly evolving with each collection? If so, how has it changed over the years?
We evolve and transform our approach to best represent the design and concept of each new collection –  every season, what we put out is an honest snap shot of our experience and feelings at that particular point in time. Sitting still and making minor variations on the same collection each season is something we avoid. We focus on progression through evolution.
---
When our buyers meet with the SFTM team in Paris they are always blown away by the effort that goes into the construction of the fabrics. Was this philosophy of constructing fabrics something that was slowly adapted and concentrated on through the collections or part of the original SFTM ethos?
The vision for Song for the Mute began as a blank page. Over time, as we grew and as the label grew, our focus and inspiration from fabrics grew stronger and stronger. Now, fabric acts as a starting point for every collection. We work closely with our mills in Italy and Japan to create specific fabrics that best represent our ideas, which we then use as a base to create each new collection. We are very much dictated by the feel, weight and touch of each fabric, finding harmony between shape and form.
---
With this commitment to creating such high quality fabrics, how much time goes into creating a collection?
Fabric development starts almost 2-3 seasons ahead.  Our ideas must mature much before the collection is presented, and even before we start sketching or get involved in the design process. For instance we were working on finishing Spring Summer 17 and also have started the fabric development for Fall Winter 17 at the beginning of this year which wont be shown until January next year. But by October this year we would need to start designing fabrics for our Spring Summer 18. As majority of our fabric are original, theres a lot of trial and error – and it just takes that much longer. Hence why I always say that 70% of our design process is purely fabric development. The shapes and styles comes organically – and usually quite fast.
---
How does working as a pair and not alone affect the way you design? What does each person bring to the creative process?
Over time the collaboration process has evolved and become very seamless. Lyna is the source of conceptual and design inspiration, where I'm more involved in the day to day operations and brand development. We always get feedback and bounce ideas off each other in all aspects of what we do, yet our roles have developed very specifically to design and operations.
---
In the past you have talked about the connection you have with Japan, would you say that Japanese culture/designers have influenced your design in any way?
Japan has always been my favourite destination to travel to. The culture, the people, the passion for design, the food. There's not one thing I don't love about Japan. We're lucky to have collaborators there, so I get to visit regularly and make the most of the cultural change and inspiration. We get inspired by the people behind the mills – if you see the way they work, the way they dedicate their lives in producing the best quality fabric, it makes us want to do everything we can to make sure we utilise their fabric in justice. The Japanese possess a tremendous eye for detail in terms of everything that they do, wear, or even say – so it's a constant learning experience for us and we really wanted to replicate as much of this experience as possible through the form of garments.
---
At UJNG we curate designer's pieces that are avant-garde but also wearable. How important is the wearability of a garment when you're designing it?
Wearability is one of the key points we consider when designing any garment. Functionality and wearability, the way a piece interacts with the wearers body, and how it will evolve over time. These are all projections that go into the design process from the very beginning. We may make up to 4 or 5 samples for one garment, to get the shape and drape just right for that specific fabric.
---
What style rules do you live by?
Firstly, we both wear lots of black. Appropriating classic styles and playing with proportion and shape is something we both do. Our style is constantly evolving, so we don't like to adhere to any rules specifically. As long as the wearer is confident and happy within himself or herself, that's most important.
---
What is next for SFTM?
We have many opportunities opening for us right now. Womenswear is the most important next step, and we're just about to debut our new collection at Paris fashion week this September. We have some exciting collaborations and developments to come in the near future and we look forward to sharing these with you!