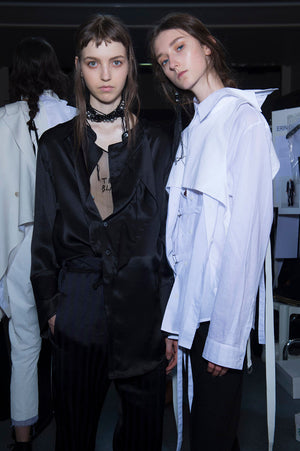 Ann Demeulemeester as a significant designer label is now in the capable hands of creative director Sébastien Meunier.  To excel from a benchmark set by the unassuming Belgium designer, Meunier has indeed complimented the skill and mastery that Demeulemeester has engaged with her past collections, in-which she has built a label that over the last thirty years has resonated to delineate a style that is truly unique.
Showcasing at Paris Fashion Week Spring 2017 Demeulemeester's aesthetically pronounced romanticism is still a fixture with the label's designs. Free flowing and minimalistic styles, the monochromatic use of black and white, once again a skilled designer will mesh colour hues that compliment the non-reflecting dark, however Meunier has subtly dabbled in this, notably only a small collection of designs, with their minimal pattern work, have been intertwined with deep purples and reds. The deconstruction of blazers, cut and broken down and remade into asymmetrical tops which drape in a cape like manner.
There is an overall feel of Paris Bohemianism, more so Rive Gauche appeal, with the predominantly dark and light contrasts, the black-onyx styled and clear glass beads – in which Meunier uses as an important accessory, giving that feel of freedom and expression.  But undoubtedly this collection does represent a serious tone, from it's achromatic visual perceptions, the unthreading of garments and as mentioned the deconstruction of traditional styles,  it is the spectrum of dark and light that sits within the black-and-white dualism. Sébastien Meunier has delivered a strikingly distinct collection for Ann Demeulemeester's 2017 Spring collection. 
Discover Ann Demeulemeester SS17 at UJNG