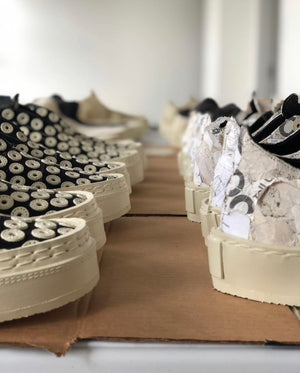 "The eye loves repetition, but does not want to be bored. It likes familiarity, but needs surprises" - Edith Bergstrom
Hi Eric, where are you from and what do you do?
I live in Los Angeles, I'm from Portland Oregon. I make and design footwear.
What is the origin of Eric Payne, the brand. Where and how did it start? Has it changed or evolved to today?
My career has primarily been working in shoe factories, doing development for various companies. Some are bigger names in footwear and more often, they're smaller start-up companies. It is not the most creative side of the industry, but it is very technical. A few years ago I started developing and designing my own shoes after hours at one of my jobs. It was originally something just for me, I wanted to explore shoe design that was completely on the other side of the spectrum from what the industry was currently putting out. That was the start. After wearing my own shoes, friends wanted them, and then it spread from there.
What was the initial inspiration for the design?
It was, and still is, the shoes from my youth. I mostly wore Vans growing up. Not because I thought they were cool but because they were affordable and I would destroy them skateboarding anyway. Often times, I'd just buy cheap plimsole shoes that kind of resembled vans and was totally happy with those. I wanted to make something like those shoes, but grown up and a bit more sophisticated. That led to the creation of the first style, the 'California Oxford,' and I think explains the DNA of the brand.
Why are your shoes so expensive?
They are handmade shoes. In short they probably have more in common with hand-sewn bespoke dress shoe than they do with, say your average designer sneaker. It takes about a week to make each pair and we make them from start to finish in our studio. We have looked into changing certain things to bring the cost down: using a pre-made soling unit, using traditional eyelets instead of ones that are stitched on, not sewing a double stitch at the toe, sourcing cheaper leather, etc.. Each proposed change has not been well received by our existing customers so we have decided to keep the shoes the way they are. Fortunately because of the way they are made they last a very long time, I still wear the first ones I made about 3 years ago.
Who were the creative makers that first inspired you as a young designer?
Helmut Lang and Raf Simons will always be at the top of that list for me. In the footwear industry probably Nicholas Kirkwood. His career trajectory was impressive and he use to make all of his own shoes, which I admire.
What was your path to become a shoe designer? Where did you train?
While I was attending college there were not many options in the US for shoe design. My mentors suggested an industrial design program if I wanted to work in the footwear industry. That was not the path I saw myself going so I dropped out of college and found a job at a local shoe factory. I worked there for about three years, mostly cutting, sewing and making patterns. During that time I was fortunate enough to be mentored by several bespoke shoemakers as well as industry professionals who worked more on the commercial side of the footwear industry.
For you, what's the difference between a shoemaker and a shoe designer?
I think the shoemaker doesn't really even exist in the same realm as the shoe designer as far as modern professions go. The shoe designer we usually think of in these large corporate shoe companies are people with product design backgrounds or maybe earlier a background in architecture. Shoemakers are more concerned with traditional craft.
Tell me about your history and relationship to the DIY spirit. How did that philosophy help get things off the ground and how does it continue today?
To an extent, I believe in being capable and being able to do things for yourself. I suppose this came from my parents. As far as the company is concerned, budget and resources are always limited so it has become about finding a way around these limitations in order to bring our projects to fruition.
Tell us about your California Oxford. It clearly holds the DNA to the brand and is a compelling, playful take on a globally-revered, iconic design. What was it like to riff on this design and make it your own?
Oxfords like the Keds, Champion or the Vans Authentic were staples in my youth and for me the most iconic of shoes. The classic Oxford has been a starting point for so many brands so it felt like an appropriate beginning.
You can't talk about Eric Payne shoes without those soles! How did you arrive on that design direction as something that would carry over across all models?
My favorite shoes use the same wrap construction. I wanted to pay homage by taking that construction and making something with it that looks more grown-up, very long lasting and repairable.
The origin story of your brand has a lot to do with that classic skate shoe form, but you quickly counterbalanced something expected with some total surprises. I'm thinking of your trash shoes or stocking boots. Where did those ideas come from and tell me about how you balance honoring classics while also creating the space to push a more avant garde spirit?
I wanted to break away from just doing leather shoes, experiment with materials like with the "apparition' translucent leather and textures more like for the "trash" shoes. You don't have to look too far to find many different possibilities. Right now I'm working with my friend Bailey Goldberg on doing some shoes out of Peruvian wool that are a continuation on this exploration of materials. I think it is important though to keep working with the more traditional materials, they are more wearable and functional for everyday life.
What was it like to debut the brand at Paris Fashion week?
It was quite the experience. A big thank you to Plan-8 Paris, Rafael Jimenez, also my friend Justin Coates for helping me while I was out there. Also I met the fine people of UJNG, which made the time worthwhile. It was great, I love Paris and the people who live there.
What music do you listen to while working?
I listen to a lot of techno, I will listen to just about anything Perc Trax puts out. Right now I'm listening to Massive Attack. A few minutes ago that 2 Chainz, Brent Faiyaz track was on. It's all over the place. My wife might come in and put some K-Pop on.
What emerging designers are you excited about right now?
My friend and neighbor Bryan Gonzales and his brand Second and 7th. He is doing these reconstructed garments made from vintage clothing that are highly detailed and complicated to make. They are quite something to touch and see in person. Also RRR123 by Roi Rebis, another DTLA neighbor doing amazing work.
As a designer and entrepreneur, how have you had to shift or adjust your work during Covid-19?
Pre-pandemic I was balancing contract work with my own work. Once the pandemic hit most of the larger contract projects I was working on were put on hold. So I had more time to focus on my brand, which for now is a welcome change of pace.
What are you working on now and what are the goals, small or large, for the future?
Continue maintaining and try to grow at an appropriate pace. This started out as a solo project, and now my friends are helping out with the everyday operations of the business. We are trying to make the company work for everyone involved. We will also be releasing some clothing that my wife Lissy has been designing sometime in 2021. Also a couple new hightop sneakers are going to be out soon, one of them was designed by my friend Pierce Lopatic, it is an amazing silhouette and I cannot wait to share it.
You can now discover Eric Payne latest work at UJNG.