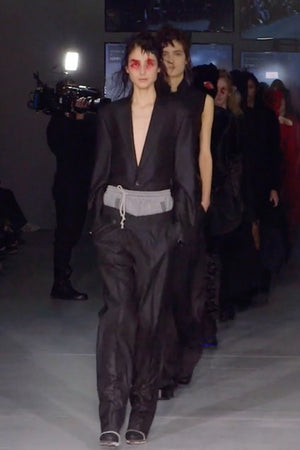 AF Vandevorst is a Belgian label founded by a husband-wife fashion duo An Vandevorst and Filip Arickx. The couple launched their first collection during Paris Fashion Week in 1998, after graduating from the Fashion School of the Royal Academy of Fine Arts in Antwerp. It only took them one more show to receive Venus de la Mode, a prestigious award for new promising designer talents.  Through the years, the brand expanded with lingerie line, shoes and accessories
Their designs showcase both tradition and modernity: kimonos, classic corsets and frock coats contrasted with silky lingerie-inspired pieces, reshaped white cotton button-downs, dramatic capes or tailored jackets.
AF Vandevorst's clothes represent confidence and femininity. It is a subtle interpretation of sexiness where the garment evokes intellect and sensuality.  With a very prominent conceptual approach to making fashion pieces, so closely connected to the Belgian school, An and Filip wanted to make sure that each garment told an unique story.
The woman wearing A.F.Vandevorst' designs is a modern heroine – powerful, intelligent, sexy and very passionate creature, who like a nomad marches towards the future while still connected to her past.