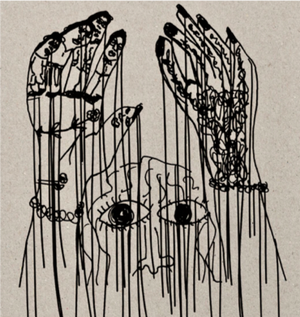 The Australian design duo behind Song For the Mute, chose to reference the Naïve Art movement for their SS21 collection. Aptly titled NAÏVE. For those that have been following the work of Song for the Mute since their inception over 10 years ago, know that the creations of Melvin Tanaya and Lyna Ty are anything but naïve and unsophisticated.
Naive art is usually defined as visual art created by a person with no formal training or education. Which is therefore characterised by its simplicity, childlike vision and execution.
Artists such as Henry Rousseau, Alfred Wallis and Jean Dubuffet are all considered key figures of the style who's work Song for the Mute used as inspiration for the collection. As well as puppets created by Paul Klee for his young son, which feature within the look book.
Inspiration also came from a place much closer to home. The collection features works from artist Karim Gaaloul, who is Lyna Ty's long term partner and artistic collaborator. Gaaloul, an artist with no formal artistic training or education, creates energetic child like works, which ties him and his aesthetic directly to the Naïve Art movement which abandons the ideals of the traditional system. Very much like the pieces created by Song for the Mute, Gaaloul's work can be seen across pieces in the collection. Each art work utilised within the collection, simply titled 'Fish', 'Bird', 'Dinosaur' and 'Lizard,' they feature as prints, pin badges and raw edge embroidered patches.
In the men's offering, the technique used for the paint splatter effect on the song for the mute jacket in the worker style, creates a whimsical effect adding depth, texture and a touch of playfulness. Constructed from a beautiful viscose satin, evoking lightness which is prominent through the collection. In another jacket offering from Song for the Mute, we see an olive gabardine crafted into the Room Coach Jacket. A minimal take on a menswear staple with what can now be considered signature rope lanyard detailing, this time hand dyed and adorning the zip closure of the chest pocket.
Gaaloul's artwork features prominently on the Big Bird Patch hoodie, with a frayed edge patch featuring embroidery with long loose threads, and pin badges adding texture and movement to this oversized and relaxed garment. The back features a large tonal frayed patch with an embroidery of a bird escaping the clutches of a predator; encompassing the idea of escaping the traditional system, and letting a childlike creativity and wonderment take hold once more.
The 'LIZARD' and 'FISH' materialise as contrasting prints on an oversized short sleeve military shirt. Constructed from a luxurious Japanese Satin cotton mix, with a patch pocket adorned with Gaaloul's art on pin badges.
This season we offer Song for the Mute pants in two varying relaxed styles and colours. The first of which is a Single Pleated Tapered Pant constructed from a soft gabardine in black and olive, with a high rise cut, subtle taper and cropped leg. The second style is a Black Lounge Pant realised in Japanese liquid polyester, creating a languid and relaxed silhouette. All Song for the Mute pants are adorned with the signature, hand dyed rope lanyard.
In our curated women's offering, a beautiful Song for the Mute jacket realised in a Japanese liquid polyester. The 'Bird' Cropped Worker Jacket, features an elongated button placket, trailing off the cropped torso of the piece. A relaxed silhouette with a play on the proportions of a traditional workwear jacket. A contrast print on the back panel of Gaaloul's sketch of the bird, is paired with a velvet tape adorning and extending beyond the sleeves. The same way we should let our imaginations extend beyond traditional constraints.
The perfect summer shirts come cropped in the torso, with long sleeves an structured open cuffs with raw edge finishing all realised in a stained green Japanese viscose. Alternatively in short sleeve iteration with similar detailing and proportions to the workers jacket. Realised in a fully embroidered lace composed of cotton and Japanese washi. Emanating a light and romantic essence, of which we've come to expect from Song for the Mute.
Our selection of Song for the Mute pants come in three varying styles and fabrications. The first iteration comes in a slim high rise cut with a tapered cropped leg, realised in a poly/lyocell mix, creating a beautiful drape and flow to the pants.

The second iteration is a 5 pocket straight leg pant, with details akin to a classic 5 pocket work wear pants. Realised in a French liquid polyester, creating a juxtaposition between the style of trouser and the languid fabrication in which it is crafted.

The third iteration in the offering is a drawstring waist wide leg loose and light trouser realised In a textured Japanese Crepe. Creating an air of nonchalance and freedom. All iterations also feature the signature hand dyed rope lanyard detail.
To finish our selection for womenswear, we have the full length twisted panelled dress. Three panels of Japanese lyocell twist and wrap around the body, ending in an asymmetrical raw hem. With contrasting removable sleeves, detached at the shoulder and fastened with ties, creating the ideal summer dress. Continuing their collaboration with New Era, this season we offer Song for the Mute iteration of the envelope bag, adorned with patches and pin badges of Gaaloul's work.
To quote Lyna Ty "we were all born creative minds, until societal judgement is placed upon us and our imagination is diluted. This creativity is omnipresent, latent, waiting to be embraced again; if we free our minds it could take us to places unknown'".
After a year of a global pandemic and lockdowns, now is the perfect opportunity to embrace your child like creativity.
Let your mind take you to unknown places of joy and wonderment once more.
Discover Song for the Mute 21.1 Naive for Men and Women now on UJNG
MT