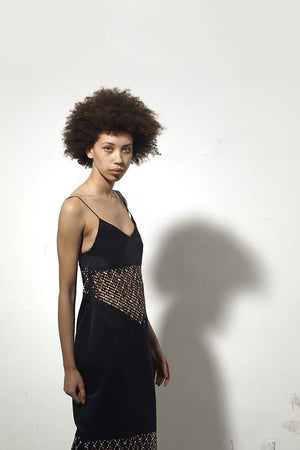 This exciting new women's fashion house from London celebrates female empowerment through innovative and forward-thinking approach to design.
REIN London is a label formed by a very talented duo: Rebecca Morter and Gemma Vanson. After graduating from London College of Fashion in 2013, they have already made their mark on the British fashion scene.
The couple gained an invaluable experience in the industry working for the likes of Alexander Wang and Christopher Raeburn. Through astonishing press and media exposure, as well as support of The British Fashion Council the eponymous label debuted with their first collection during last year's London Fashion Week.
REIN women's line explores the correlation between body and fabric. These statement pieces represent edgy elegance of a strong woman with a modern attitude, who dares to contrast minimal aesthetics and monochromatic tones with unusual layering, see-through panels, and maze-like cutouts.
The collection presents one-of-a-kind innovative solution to a contemporary design using sustainable yarns and making garments post-order to minimise wastage. The label is inspired by women and for women, that's why it goes beyond simple 'wearability' because the clothes encourage freedom of female expression and empowerment.
Discover our top selection of designer clothes for women available on UJNG.