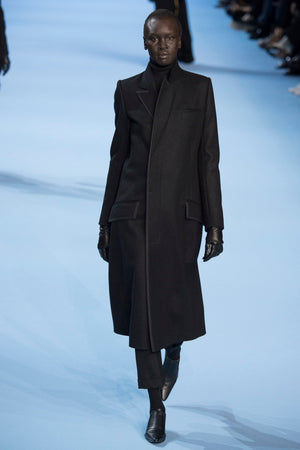 With Australian model Julia Nobis opening the show (and also closing) wearing a stylized leather jacket, cut above the hip and reshaped into a symmetrical display, presented with a beautifully crafted yellow long skirt – complete with haute couture inspired plissé, a homage to Japanese designers such as Issey Miyake.  Haider Ackermann's presentation for his Spring/Summer 2017 collection expands into what seems as an austere affair, despite the exaggerated colour palette, there is a deliberate clash of concepts.
From clean cut modernist styles to late 1970s punk and glam rock aesthetics, which includes disco styled "Studio 54" chrome leopard printed skirts to high waist pants, Ackermann has also showcased with this collection padded shoulder blazers and coats that are open, exposed, with dashes of nihilism within it's symbolic rock-star irony.  At the same time sombre looking models adorn blood splattered coats and t-shirt slogans that displayed terms like 'Be Your Own Hero' and 'Silent Soldier'.
Ackermann skillfully shows how he can produce a broad spectrum of styles, that at times appear to be in conflict with it's self, yet he is able to refine and promote his collections within the label's ready-to-wear forte.  His use of colours such as pink, fluorescent yellow, burnt orange and copper, used against the neutrality of black and white demonstrates his expertise in visualization.  The slogan t-shirts, in my opinion, are the lesser trend to what I've seen with the Lampasse style striped pants, which seem to be a consistent style with both Milan and Paris fashion weeks.  Haider Ackermann has presented an incredible show for Paris Fashion Week Spring/Summer 2017, a broad and complex array overlaid by a moody and haunting soundtrack.