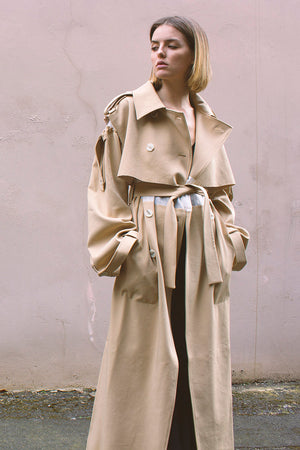 Established by Hong Kong designers Julio and Cyrus, id has become a front runner in the world of emerging fashion. Founded on the inspiration between the designers' chemistry and relationship of the counterbalance between opposing contrasts of romanticism and realism. Their concept for the brand is stemmed from the unique and aggressive contrast in terms of their personalities, styles and aesthetics to bring froth a wholly complete identity – a masterful unity as of the yin and yang.
We talk to Julio Ng about his new label id, available at UJNG.
What was the [one] biggest influence on you to become a designer?
I guess it would be accompanying my mum to shop at Joyce in Hong Kong almost once a week at the age of 10. I would sit around and do nothing at first, as I grow older I begin to try on different things that I like and started to touch them and feel them. Joyce became a Library to me at an early age. It transformed me in a lot of ways. This is the origin of my passion towards fashion therefore I knew immediately if I were to start a brand , I will start it in Hong Kong! Cyrus Wong, womenswear graduate from CSM and Julio Ng, menswear graduate from LCF, we founded our brand 'id' in 2016. The transformation and evolve element is one of the core element of the brand as we find it best describe the essence of Hong kong as it transformed from a small fish village to an international financial centre.
---
What is "ID"? What does it mean to you and what do you want the brand to stand for?
'Id' is a psychological analysis term, meaning the basic human need, desire and attraction when you are born. We wanted to create a brand that reminds people the origin of clothing, besides all the social media and technology, paper pattern and handcraft are the foundation of a garment and it should be the origin of why you are attracted by our designs, we hope that each of our garment provides an experience, where it will transform you and give you a new identity.
---
With this commitment to creating such high quality fabrics, how much time goes into creating a collection?
80% of the time goes into creating paper pattern, toile and surface textile as this is the core of our brand identity. We intend to stay away from any high tech method during our creative process.
---
How does working as a pair and not alone affect the way you design? What does each person bring to the creative process?
To be honest we are like a perfect fit, Yin and Yang. Our strength always cover the others weakness. At the same time we are two complete extreme, realism and romanticism which brings the spice to each of our design, There's always a feminine element from me and masculine element from Cyrus. In a way we can be a great couple as well.
---
At UJNG we curate designer's pieces that are avant-garde but also wearable. How important is the wearability of a garment when you're designing it?
Wearability is almost the top priority for our brand, after we decide on the creative direction, Cyrus will always come up with new and crazy techniques to create each garment and I would edit it down to a wearable piece. We always find our garment look the best on human while moving and always we seek for the interaction between our garment and the end user, therefore we knew that we are not interested in designing a garment that would sit in the museum. We want to transform people, we want them to feel our garment.
---
What style rules do you live by?
Love on the first sight, always wear something you love, always create something that people will love because of the design, the touch and the fit of the garment instead of the media attention or additional elements.
---
What is next for ID?
To grow steadily, to be loved and to create the best environment for our next generation here in Hong Kong.
Interview with ID for UJNG