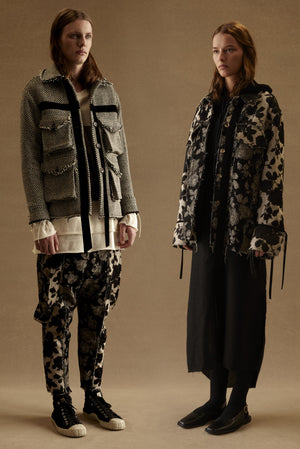 Lyna Ty and Melvin Tanaya revealed Song for The Mute's Autumn/Winter 2017 collection titled "Moth" at their Rue Saint Martin Paris showroom in January 2017.  
Maintaining the ornamented textured styling, as seen with their previous collections, lead designers Lyna Ty and Melvin Tanaya have created a more layered look for their AW17 collection. The attention to detail and melding of fabrics, which gives Song for the Mute it's distinction, remains.  As does Ty's expertise in tailoring a unique style with precision stitch work that includes delicate unpicking of fabrics.  
Song for the Mute's Autumn/Winter 2017 collection is presented with both male and female styles, a contemporary take on Romanticism fashion of yesteryear. As each of their AW17 pieces holds a historic appeal in which designer Lyna Ty has embraced and reworked into an aesthetic for Song for The Mute's assiduous styles. A defined layering and internal structuring of the 'Moth' collection appeals to a timeless history which still holds an influence.     
Over sized tweed wool jackets, with creative unpicking of stitch work. Victorian floral designs in-which embellish themselves over long coats, jackets, trousers and skirts. Lyna Ty and Melvin Tanaya's patchwork fusion of traditional styles with the avant-garde.  Old and new brought together, to not forget or discard the past – as that is where memories are stored.  It is recollections, the layers of history, that one can reconcile with and move on.  Print designs of Moths adorn jackets and tops as does other monochromatic, washed out images, ambiguous in their presentation, yet portraying a message.  As noted with their Spring/Summer 2017 collection, the artisan sourced fabrics from Japanese and Italian mills such as Cupro, Rayon and Gaberdine (wool) hold a predominant standard with Song For the Mute's collections.
Discover Song for the Mute SS17 collection for men and for women on UJNG.