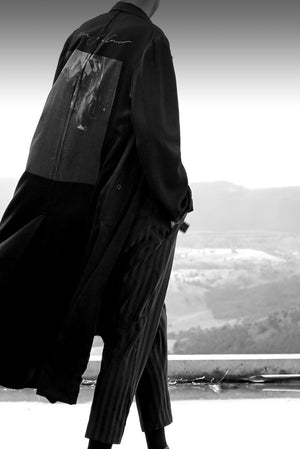 One of the premier artisan and avant-garde labels Song for the Mute designed in Sydney, Australia, created by lead designer Lyna Ty and Melvin Tanaya. Their passion and focus is to maintain a relevant and signature label, in which develops and promotes hand stitching while utilising rare and sourced fabrics from Japanese and Italian mills.  This also entails that Song for The Mute are able to oversee the creation of unique textiles and their structure. Their Spring Summer 2017 collection titled "Beau", despite the intension of this collection being a homage to the Impressionists, more so Claude Monet, it also represents a Zen feel. A simplicity, yet layered complexity. The intricacy and attention to detail, individually and gracefully represented.
Song for The Mute's use of specific fabric blends, such as Cupro, Rayon and Gaberdine (wool) shows designer Lyna Ty's skill in being able to envision styles and to ensure that her clothes have a durable, yet soft and tangible appeal.
UJNG are offering a selective collection for Spring Summer 2017. The elegant avant-garde styled black skirt with flap overlap, 100% made from Gaberdine wool which is a tightly woven wool, soft yet rugged. The signature Song for the Mute coat an ethereal style, crafted with Rayon, made in Japan, buttons are from Water buffalo horn.  Also is the accompanying long sleeves hoodie, noted is the 60% use of Cupro.  A cotton based yarn that is derived from the linter (cotton) which gives the garment a silky and supple feel. For both garments there is a unique screen printed design on the back – artwork by Melvin Tanaya.
Song for the Mute's SS 2017 t-shirt collection once again showcases designer Lyna Ty's eye for detailed aesthetics, particularly the oversized white, lavender and black t-shirts available at UJNG. Remaining true to the label's Spring Summer 2017 themed title of 'Beau' with Ty's minimalist influenced artwork on the back of the t-shirts.
Discover Song for the Mute Beau collection for Men and for Women on UJNG